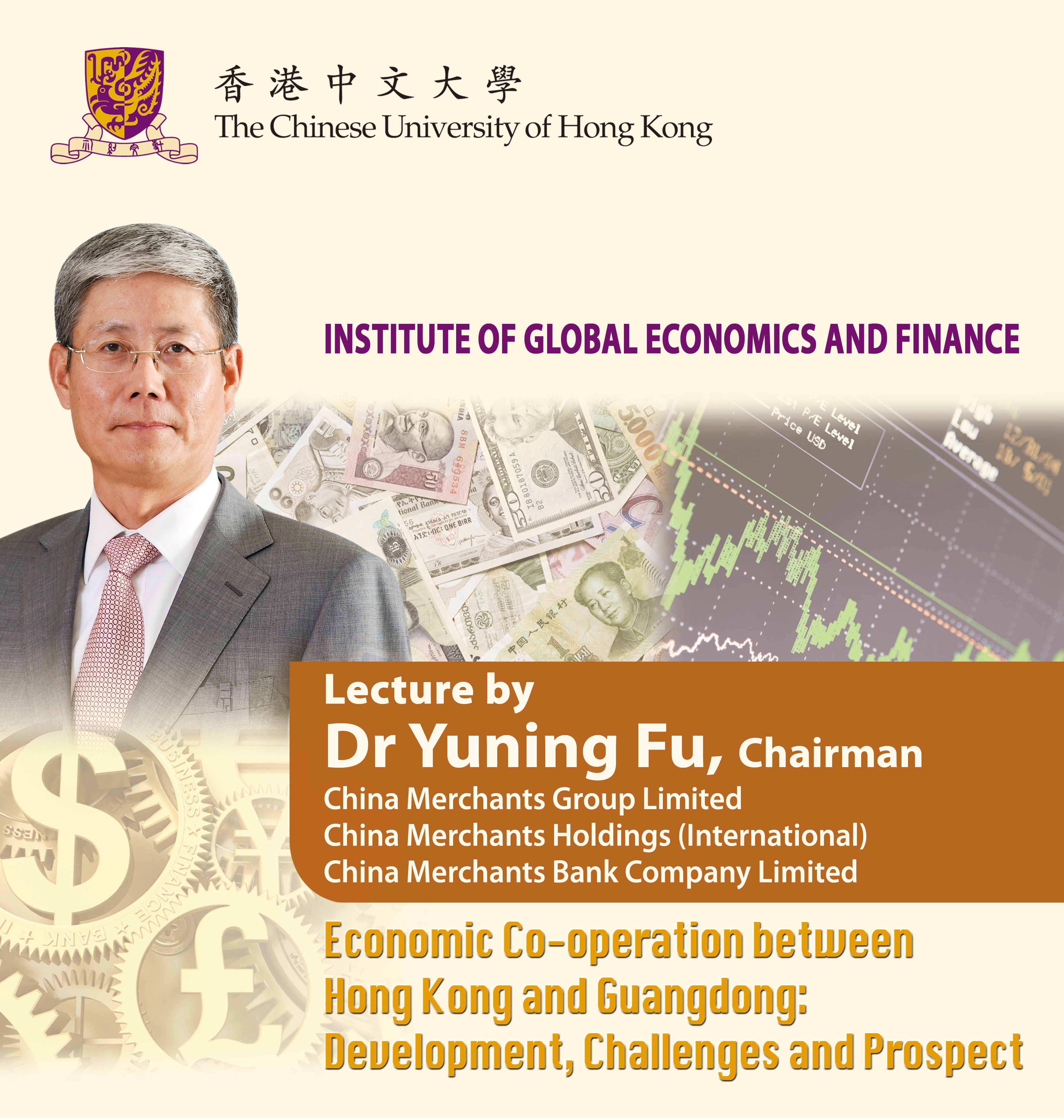 Topic:
Economic Co-operation between Hong Kong and Guangdong: Development, Challenges and Prospect
Date:
28 February 2012 (Tuesday)
Venue:
Lecture Theatre 3, G/F, Esther Lee Building
The Chinese University of Hong Kong  (Map)
DR YUNING FU 傅育寧博士
Dr Yuning Fu obtained his bachelor degree from Dalian Institute of Technology in China and a Ph.D. Degree from Brunel University in the UK. He is presently the Chairman of China Merchants Group Limited, China Merchants Holdings (International), and China Merchants Bank Company Limited. He is also an Independent Non-Executive Director of LI & Fung Limited, Independent Non-Executive Director of CapitaLand Limited in Singapore, and a General Committee Member of the Hong Kong General Chamber of Commerce.
Dr Fu was previously President and Managing Director of China Nanshan Development (Group) Incorporated, Independent Non-Executive Director of Sino Land. He was also the Chairman of Union Bank of Hong Kong Limited, China Merchants China Direct Investment Limited, China International Marine Containers (Group) and China Merchants Energy Shipping Co., Limited.
傅育寧博士畢業於中國大連理工大學及在英國布魯諾爾大學取得博士學位。傅博士現為招商局集團有限公司董事長、招商銀行董事長及招商局國際有限公司主席。傅博士亦是香港利豐有限公司之獨立非執行董事,嘉德置地有限公司之獨立非執行董事及香港總商會執行委員會成員。
傅博士亦曾任中國南山開發(集團)股份有公司董事長兼總經理、信和集團獨立非執行董事、香港友聯銀行有限公司主席及招商局中國基金有限公司主席。
Abstract
Over the past thirty years, the ties between Hong Kong and Guangdong have been elevated from a dynamic manufacturing base built in Pearl River Delta (PRD) with substantial investment from Hong Kong to the formation of a close "front shop, back factory" relationship between the two.
In recent years, particularly after the global financial crisis, the macroeconomic environment has undergone some fundamental changes, which includes the change of Chinese domestic production factors, especially that of labor supply, the decline of consumption in developed countries, and a new distribution of global production. These changes bring challenges to the traditional collaboration model.
There are great opportunities for the co-operation between Hong Kong and Guangdong, during the National 12th Five Year Plan period and beyond. Based on respective advantages, new collaboration models can be explored in areas such as service sector, industry upgrade and new technologies, so that a win-win situation and a sustainable development of the region can be achieved.