Registration:
(Registration now closed)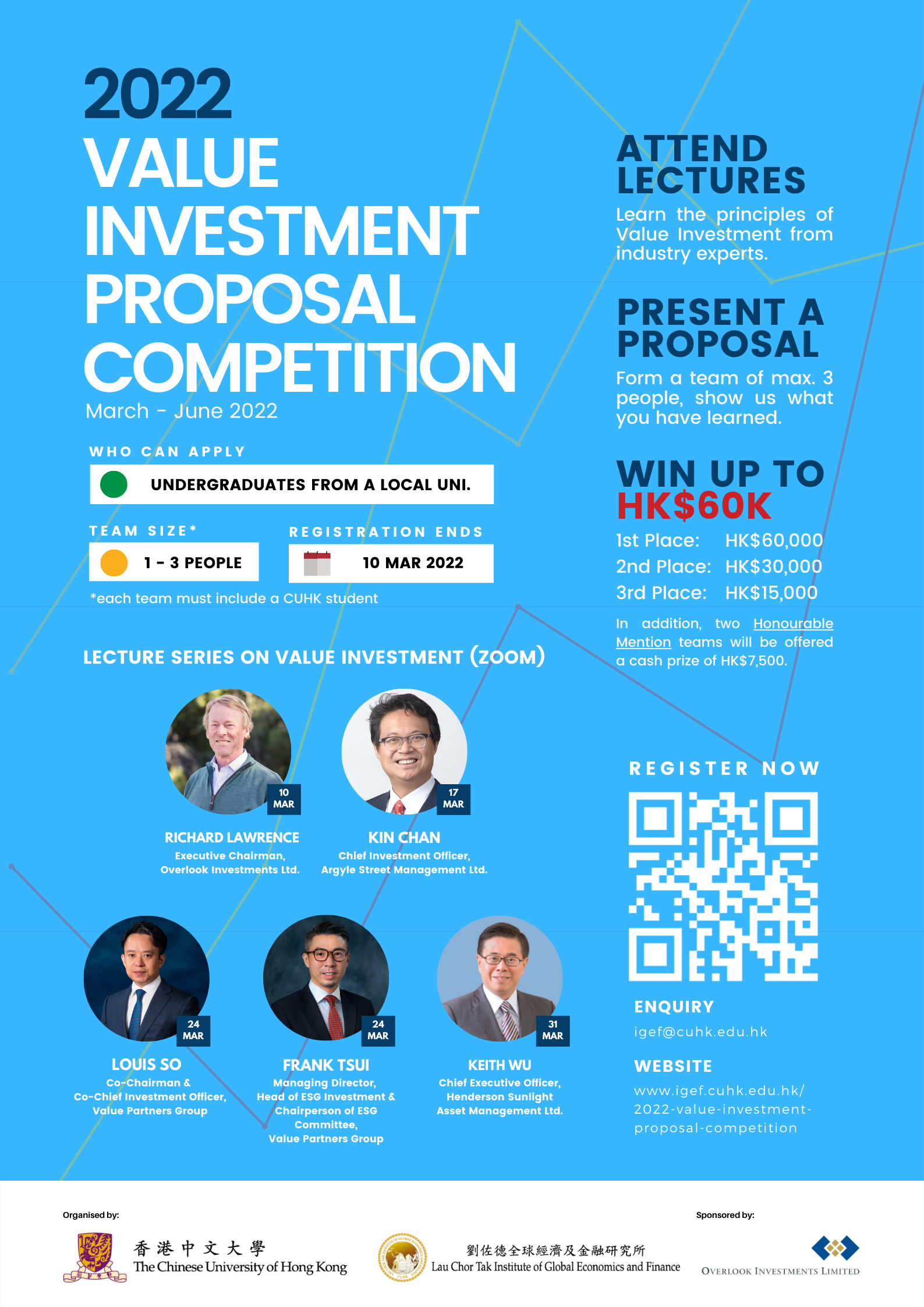 Last update: 26 July 2022
About the Competition
Sponsored by Overlook Investments Ltd., Lau Chor Tak Institute of Global Economics and Finance (IGEF) is organising the third Value Investment Proposal Competition ("the Competition") in March 2022, offering undergraduate students a unique experience of learning value investment techniques from top industry experts and applying such knowledge in a competition setting. Participants are expected to attend a series of lectures and then submit an investment proposal; winning teams will receive cash prizes of up to HK$60,000.  
The Competition is open to all full-time students studying an undergraduate degree programme at a local tertiary institution for the 2021-2022 academic year. Students from any discipline are welcome. Participants must apply as teams of up to three members, where at least one member must be a full-time undergraduate student currently enrolled at The Chinese University of Hong Kong. Each participant can enter the Competition as a member of only one team.
Interested teams should register for the Competition by completing the application form (available here) once per team by 10 March 2022. Due to limited availability, applications will be processed on a first come, first served basis; successfully registered applicants will be notified through emails.
Competition handbook
The handbook can be accessed here. 
---
Cash Prizes
1st Place: HK$ 60,000
2nd Place: HK$ 30,000
3rd Place: HK$ 15,000

In addition, two Honourable Mention teams will be offered a cash prize of HK$7,500.
---
Lecture Series
In light of the COVID-19 pandemic, all lectures and workshops this year will be delivered online via Zoom unless otherwise specified.
---
Key dates
---
Final results:
Winner: Team 18

First runner-up: Team 21

Second runner-up: Team 51

Honourable Mention: Team 32

 

Honourable Mention: Team 33

 

Group photo

 
Registration:
(Registration now closed)